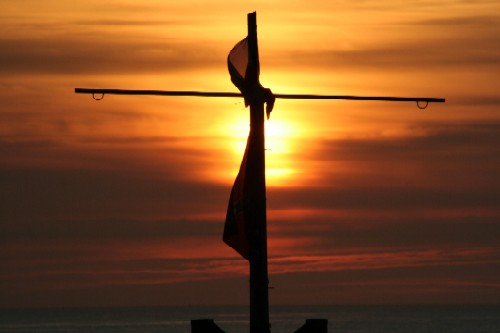 ST010/10

The Final Consummation of all Things.

Most works on Systematic Theology seem to include a section on the Final Blessedness of the saints before dealing with the final consummation. The two seem to be so wedded, though, that it is more satisfactory to deal with them together. The final consummation is the preparation for the final blessedness.
(a) The Final Consummation.

These finite minds are unable to comprehend the wonders that yet will be when this earth is finally wound up and we enter into the final establishment of the perfected kingdom of God. God tells us, in very human terms so that we can understand, something of the glories and blessings of the new heavens and the new earth (Rev.21,22), but obviously it can only be in pictorial language and still leaves a great deal unknown.
Even in the Old Testament Isaiah prophesied of new heavens and a new earth(ch.65:17-18) and in the Revelation of John more is added. Peter reveals to us that the old earth and heavens will be consumed with fire. The word used for consumed is one which may well mean only "dissolving" and may imply that the material of the old heavens and earth may not be completely lost in the creation of the new.
In view of all that has been discovered in recent years as to the size of this universe and of the possibility of other universes beyond, it is difficult to conceive all that God means. There may be universes beyond which have not been touched by the fall and sin and
which will not need to be renewed. We do not know, God does, and we can leave all in His hands with the assurance that the final consummation will mean a perfect heavens and a perfect earth fitted for our resurrection bodies and for the endless ages of eternity, which baffle our comprehension and during which we shall serve our Lord and Saviour with joy and gladness.

(b) The Final Blessedness of the Saints.

Before drawing to a final conclusion something must be said concerning the state of blessedness into which the saints will enter in the new heavens and the new earth. Again we are only told sufficient to wet our appetites. Heaven is both a place and a state. Jesus in Johns Gospel speaks of "many abiding places"(John 14:2,3). It is a place which John sees in his vision in the Revelation.
In speaking of the place, though, much is said which speaks of the blessedness of the state. Wiley mentions four aspects of the blessedness of heaven.
First, there will nevermore be sin and unrighteousness.(Rev.21:27). Nevermore will the saints feel the sinister influence of Satan or sinners.
Secondly, all the penal consequences of sin will be removed. "God shall wipe away all tears from their eyes; and there shall be no more death, neither sorrow, nor crying, neither shall there be any more pain: for the former things are passed away." (Rev.21:4).
Thirdly, there will be the enjoyment of all positive good. "The throne of God and
of the Lamb shall be in it; and His servants shall serve him: and they shall see His face; and His name shall be in their foreheads. And there shall be no night there; and they need no candle, neither light of the sun; for the Lord giveth them light: and they shall reign for ever and ever."(Rev.22:3-5).
Lastly, heaven will be the perfect answer to every holy desire. "For those who are weary, it is everlasting rest; for the sorrowing it is a place where God shall wipe away all tears; for the suffering, there shall be no more pain, for the mistakes and blunders of a sincere but imperfect service, the throne of God shall be there, and His servants shall serve Him every deed being performed in His presence and under His approving smile; for those who are perplexed and bewildered by the uncertainties and disappointments of life, it is promised that there shall be no night there; for the Lord God giveth them light, and they shall.reign with Him forever and ever." (Wiley, Intro. to Christian Theology p.441).
Heaven will also be a place of unblemished communion and fellowship both with the Lamb and with the other inhabitants of that blessed place. (Heb.12:22-23). The time will be spent in glorious activity and service without weariness, of discovering more and more about our wonderful Lord, of praise and worship without any sense of boredom, and nothing shall ever enter in any sense to mar the fellowship, dull the praise and worship or hinder our enjoying to the full the glory of what God has provided for us. Glory be to God, "And it is my prayer that your love may abound more and more, with knowledge and all discernment, so that you may approve what is excellent, and may be pure and blameless for the day of Christ, filled with the fruits of righteousness which come through Jesus Christ, to the glory and praise of God." Phil.1 : 9 -11 (R.S.V.)
"To this end we always pray for you, that our God may make you worthy of his call, and may fulfil every good resolve and work of faith by His power, so that the name of our Lord Jesus may be glorified in you, and you in Him, according to the grace of our God and the Lord Jesus Christ." 2 Thess.1:11-12 (R. S.V.).