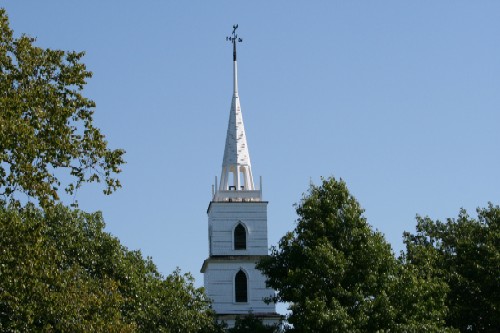 "A Critical Analysis of the
Purpose Driven Church."
by Robert.T.Loney
As someone who has spent most of his ministry in Church planting and development, I come to this subject of a "critical analysis of modern church models" not only as a theorist but also as a practitioner. I know the pain, the hardship, the challenges, the tears and disappointments which accompany the joys and successes of opening up new ventures for mission which become settled local churches.Over the past four years I have been sifting the purpose driven model as a child with a new toy.
Often I have asked myself the question, is this what I have been waiting for? A methodology that can carry the message with exciting results, a system of church development that will overturn decline and turn the struggling local fellowship into a growing and witnessing fellowship?I am indebted to Rick Warren for his openness not only in his books but also with conversations he has had with others who would not necessarily agree with him theologically, ecclesiologically or missiologically but have recorded their meetings with Rick and placed the outcome of those conversations into print.
My assessment of the purpose driven model of doing church is coloured by the fact that Rick is a North American whose culture into which he planted the Saddleback church is incredibly different from my Irish culture. In the light of that many of my conclusions may well be the product purely of difference.My assessment is not final but open to change as new facts and information comes to the fore, I do believe that the Purpose Driven Church model has much to offer our church world especially where denominations are facing decline at such a rapid rate as they are in the West.
I think it is true to say that "the purpose driven model" is loved by many and also hated by others but what is sure you cannot ignore it. So to Rick Warren I thank him for creating the environment where at the very least the great debate rages on with regard to his defined model of church development and our prayer has to be that in and through that debate we may eventually hear what God is saying to his church in these days.
This analysis will be in six parts, I hope as you read my findings and where I am lacking in understanding and assessment that at least we can mature our thinking because of the debate and not necessarily inspite of it. Let me know your responses and other important information that would enhance this debate by email, CET address available in contact area of this site. May God bless your reflections and continue to use you in his service.
RTL.
" Sebuah Analisis Kritis
Purpose Driven Church . "


by Robert.T.Loney



Sebagai seseorang yang telah menghabiskan sebagian besar pelayanan-Nya dalam penanaman dan pengembangan Gereja, saya datang ke ini subjek " analisis kritis model gereja modern " tidak hanya sebagai teori , tetapi juga sebagai seorang praktisi .
Aku tahu rasa sakit , kesulitan ini , tantangan , air mata dan kekecewaan yang menyertai kebahagiaan dan keberhasilan membuka usaha baru untuk misi yang menjadi menetap churches.Over lokal empat tahun terakhir saya telah memilah didorong Model tujuan sebagai seorang anak
dengan mainan baru .


Seringkali saya bertanya pada diri sendiri pertanyaan, apakah ini yang saya tunggu-tunggu ?
Sebuah metodologi yang dapat membawa pesan dengan hasil yang menarik , sistem pembangunan gereja yang akan membalikkan penurunan dan mengubah persekutuan lokal berjuang menjadi persekutuan tumbuh dan menyaksikan ? Saya berhutang budi kepada Rick Warren untuk keterbukaan tidak hanya di buku-bukunya tetapi juga dengan
percakapan dia memiliki dengan orang lain yang belum tentu setuju dengan dia teologis , ecclesiologically atau missiologically tapi telah mencatat pertemuan mereka dengan Rick dan menempatkan hasil percakapan ke cetak .


Penilaian saya dari driven model tujuan melakukan gereja diwarnai oleh fakta bahwa Rick adalah Amerika Utara yang kebudayaan di mana ia menanam gereja Saddleback ini sangat berbeda dari budaya Irlandia saya.
Dalam terang bahwa banyak dari kesimpulan saya mungkin menjadi produk murni dari penilaian difference.My belum final tetapi terbuka untuk berubah karena fakta-fakta dan informasi datang kedepan baru , saya percaya bahwa Purpose Driven Model Gereja memiliki banyak tawaran
dunia gereja kami terutama di mana denominasi menghadapi penurunan pada kecepatan yang cepat karena mereka di Barat .


Saya pikir itu benar untuk mengatakan bahwa " tujuan driven model " dicintai oleh banyak orang dan juga dibenci oleh orang lain tapi apa yang pasti Anda tidak bisa mengabaikannya .
Jadi untuk Rick Warren Saya berterima kasih padanya untuk menciptakan lingkungan di mana setidaknya perdebatan besar mengamuk di berkaitan dengan modelnya didefinisikan pembangunan gereja dan doa kita harus bahwa di dalam dan melalui perdebatan bahwa kita akhirnya dapat mendengar apa yang Tuhan katakan
ke gereja di hari-hari ini .


Analisis ini akan berada dalam enam bagian , saya berharap ketika Anda membaca temuan saya dan di mana saya kurang dalam pemahaman dan penilaian bahwa setidaknya kita bisa matang pemikiran kita karena perdebatan dan belum tentu meskipun itu .
Biarkan aku tahu tanggapan Anda dan informasi penting lainnya yang akan meningkatkan perdebatan ini dengan email , alamat CET tersedia di daerah kontak dari situs ini .
Semoga Tuhan memberkati Anda dan refleksi terus menggunakan Anda dalam pelayanannya .



RTL .